How can I help?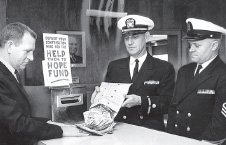 Roy Dupuis, News Sun national advertising manager in 1964, accepts donations from Great Lakes personnel for the fund.
If you would like to provide for the less fortunate in Lake County, Please complete the following form and return it with your donation to the Help Them To Hope, P.O. Box 364, Gurnee, Il 60031, or at NorStates Bank, Lewis Av Location in Waukegan. Group donations are welcome.
All contributions are tax deductible.
Many of our fund contributors remember a deceased family member or friend by making a donation to Help Them To Hope.
Your contribution is felt by the community and is greatly appreciated.
DOWNLOAD CONTRIBUTION FORM (.PDF)
Please make checks or money orders payable to:
Help Them To Hope
P.O. Box 364
Gurnee, IL 60031