Holiday donations distributed by Hope Fund board
SPECIAL TO THE NEWS-SUN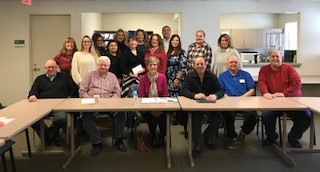 WAUKEGAN --- Nine Lake County community service agencies received donations Friday, Feb. 8, from the Help Them To Hope holiday fund drive as it begins its 60th year.

Directors of the Hope Fund and agency representatives met at the Joseph Cardinal Bernardin Center of Catholic Charities, 617 S. Lewis Ave., for the check distribution from the 59th annual campaign.

Total disbursements of $38,800 from the 2018-19 fund drive from Thanksgiving 2018 to early January 2019 were split among the grassroots agencies, which included A Safe Place, Beacon Place, Catholic Charities, Community Social Services, COOL Ministries, Mothers Trust Foundation, PADS Lake County, Roberti Community House and Twice As Nice Mother & Child.
Hope Fund President Richard Ribando pointed out that with this year's disbursements nearly $3 million has been raised by the charity with all funds raised staying in Lake County. "This being our 60th year, we hope to raise $60,000," he said, adding the charity added a Pal Pay option last year for electronic payment of readers' donations.

Founded in 1959 by pressmen at the Lake County News-Sun, Help Them To Hope raises money all year, with funds raised through the newspaper's readers going to groups supporting needy county residents.

The 60th annual drive will begin on Thanksgiving this year.

To donate, send checks or money orders to Help Them To Hope, P.O. Box 364, Gurnee, IL 60031, or check the group's Web page at www.helpthemtohope.com.